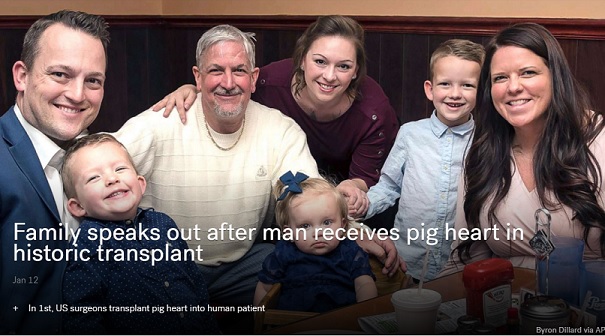 A 57-year-old man who underwent a first-of-its-kind heart transplant involving a genetically-modified pig heart is in a "much happier place" after the transplant, according to his son.
David Bennett Sr., of Maryland, suffered from terminal heart disease and was deemed ineligible for a conventional heart transplant because of his severe condition, according to University of Maryland Medicine, where Bennett underwent the transplant.
On New Year's Eve, University of Maryland Medicine doctors were granted emergency authorization by the Food and Drug Administration to try the pig heart transplantation with Bennett, who had been hospitalized and bedridden for several months.
Bennett said he saw the risky surgery as his last option.
"It was either die or do this transplant. I want to live. I know it's a shot in the dark, but it's my last choice," he said the day before the surgery, according to University of Maryland Medicine. "I look forward to getting out of bed after I recover."